Contrary to popular belief, bad breath is not just irksome; rather, it is a sign of an unhealthy mouth following bacterial infestation. The bad breath and visible calculus buildup on the teeth are only the beginning: by this time, the dental disease is often already under the gums, potentially leading to a tooth root abscess or to painful loose teeth.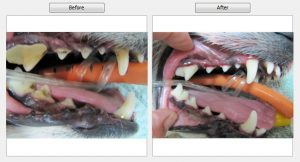 Aside from causing problems in the mouth itself, dental and gum disease can lead to disease in other organs of the body, similar to disease in humans. The organs most commonly affected are the heart, liver, and kidneys.
Studies have shown that most pets by 3-4 years of age are in need of a dental cleaning. A dental cleaning done around this time (before severe disease is present) can often reverse any changes in the mouth which have occurred over time. Anesthesia-free cleanings fail to address the problem at it's source, which is primarily under the gums; thus, a veterinarian should be consulted for dental cleanings under anesthesia.
After a dental cleaning, there are many ways to potentially prevent your pet from ever needing to undergo another cleaning, such as brushing your pet's teeth  at least every other day with an enzymatic pet toothpaste (try poultry flavor! See video below and handout Brushing Your Pet's Teeth to get started) or giving your pet a dental food (we recommend Hill's t/d or Royal Canin Dental diets).
What are signs to watch for with dental disease?
Halitosis (bad breath)
Gingivitis (red irritated gums) or bleeding from the gums/mouth
Tartar or calculus (brown crusts on teeth)
Sneezing
Dropping food
Drooling
Loss of appetite
Weight loss
Schedule your pet's dental cleaning today!
Image courtesy of Aurora Animal Care Center, Inc. Video courtesy of Arizona Veterinary Dental Specialists via American Veterinary Dental College.