Wellness care at all ages, including annual exams, regular vaccinations, and routine health screenings, will help your pet live a longer, healthier life. These visits allow your veterinarian to tailor a vaccination and parasite prevention plan to your pet, as well as provide your veterinarian the opportunity to ensure your pet is growing and aging appropriately. These visits also allow your veterinarian to discuss any behavioral, nutritional, training, or health concerns you may encounter throughout their lives.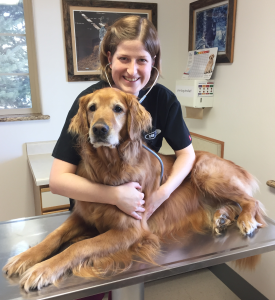 Did you know that because pets age four to five times faster than we do, health problems can progress much more quickly? Pets are notorious for being incredibly stoic, and often will not show any overt signs of illness until the disease process has progressed. Regular visits to your veterinarian, whether every 6 or 12 months, allow your veterinarian to become familiar with you and your pet, thus giving your veterinarian a baseline to associate with your pet being healthy. This baseline helps your veterinarian to detect any abnormalities (i.e. cancer, heart disease, arthritis, kidney disease, dental disease) early, often leading to better outcomes.
We also offer microchipping as part of our services. Did you know that one in three pets will go missing in its lifetime? And without permanent ID, 90% never return home? A microchip is an effective way to be reunited with a runaway or stolen pet, as often the collar (with its identification tags) is the first thing to go. This is a chip with the size and approximate appearance of a grain of rice that is inserted just under the skin between the shoulder blades. It is read like a magnetic strip, so it never 'dies' or goes bad. It is not a GPS tracker; instead, when a pet is found, it is scanned for a microchip by Animal Control, the animal shelter, the humane society, or at a veterinary clinic, leading to a reunion between the lost pet and his or her owner.