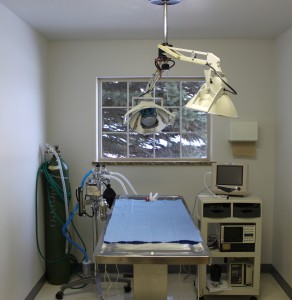 Here at Countryside Animal Clinic, we strive for the gold standard in patient care, patient safety, and pain management. See below for a sampling of surgeries offered by our clinic. We also consult with Dr. Rick Scherr of Big Sky Animal Medical Center of Great Falls, Montana, who travels to our clinic to perform more advanced procedures, including tibial plateau leveling osteotomy (TPLO, the gold standard in ACL repair), tracheal stenting (for collapsing trachea), and more.
Spaying and Neutering
Altering of pets is critical to control the overpopulation and subsequent overfilling of country shelters and humane societies. Removing a pet's reproductive organs also reduces the risk of certain cancers and infections, providing him or her with a longer, healthier life. Spaying of females involves removal of the ovaries and uterus (ovariohysterectomy). Performing a spay prior to the first heat cycle drastically reduces your pet's risk of mammary cancer, a cancer which strikes approximately 50% of females at some point in their lives. Neutering of males involves removal of the testicles. Studies have shown that altering a pet prior to 5-6 months of age can predispose him or her to ligament and joint problems later in life (i.e. ACL tear) and increase the risk of certain cancers (i.e. osteosarcoma).
Cats: spaying or neutering should be performed around 5 months of age.
Dogs: spaying should ideally be done prior to her first heat cycle, generally around 6 months of age. Neutering can wait a bit longer, generally around 1 year of age for small dogs and 1.5 years of age for giant breed dogs, unless he is acting aggressive or marking his territory in your house.
Ask your veterinarian when you should spay or neuter your pet at your next appointment.
Soft Tissue Surgery
Other than spaying and neutering, we also offer a multitude of other soft tissue surgeries, such as exploratory laparotomy (abdominal surgery), foreign body removal (i.e. rocks in the stomach), urinary bladder stone removal surgery, cesarean section, mass or lump removal, enucleation (eye removal), wound care/repair, and ear hematoma repair.
Orthopedic Surgery
We offer a variety of musculoskeletal surgeries, including fracture repair, femoral head osteotomy, amputation, and ACL repair.