DECEMBER  IS SENIOR PET MONTH!
In honor of Senior Pet Month, receive 10% off your senior pet's bloodwork for the month of December! In cats and small dogs, a pet is considered 'senior' over the age of 7 years, whereas larger breed dogs are considered 'senior' over the age of  5-6, depending on the breed.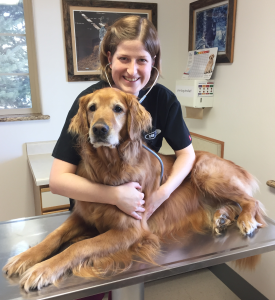 Did you know that because pets age four to five times faster than we do, health problems can progress much more quickly? Pets are notorious for being incredibly stoic, and often will not show any overt signs of illness until the disease process has progressed. Regular visits to your veterinarian, whether every 6 or 12 months, allow your veterinarian to become familiar with you and your pet, thus giving your veterinarian a baseline to associate with your pet being healthy. This baseline helps your veterinarian to detect any abnormalities (i.e. cancer, heart disease, arthritis, kidney disease, dental disease) early, often leading to better outcomes.
Schedule your senior pet's exam and bloodwork appointment today!
COMING IN JANUARY: receive a free weight consultation for your pet!